About
Artist's message, background, and history of work.
Artist's Message
from Satoki Onishi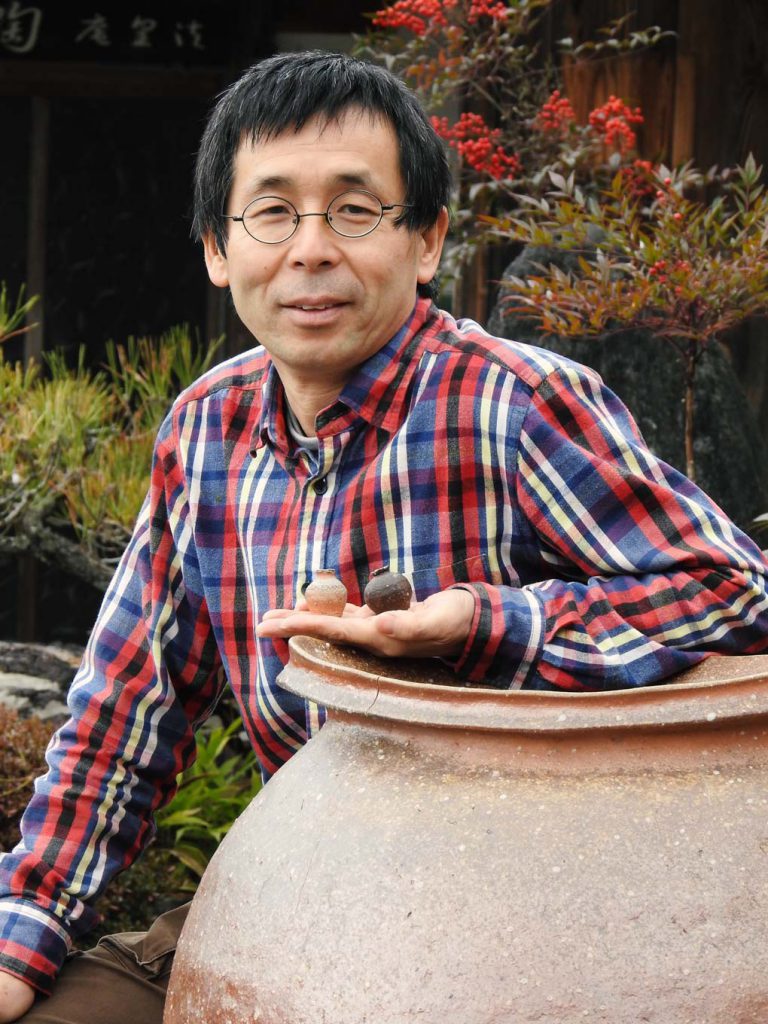 Here in Shigaraki, we've been blessed with a rich source of quality clay that holds unique properties, distinct from any other clay in the world. I work with this clay, raw and untreated, to create pieces that reflect the innate characteristics of the material.
My work involves countless trials and errors, which hone my methods aimed at bringing out the "personality" of the local clay. This has helped me to develop a versatility with various types of work from the natural unglazed style to more contemporary glazed pieces, and in a diversity of shapes and sizes. People are often surprised that this vast range of pieces are all made by me.
I'm a tea lover, and of Japanese tea in particular. I have been concentrating, especially in recent years, on making tea pots and utensils. Such pieces are small and need to be functional, so there are some restrictions to the forms this art can take. But, I try to focus on bringing out the natural physical properties of the clay as it reacts with heat.
The world's tea culture is very rich and deep, with so many different types and variations that have been produced almost entirely from the same plant. Japanese tea is no exception. There is such a wide variety of teas and ways in which they are enjoyed. Though, if we look at tea utensils, they seem to look the same throughout the world. They can be said to be universal.
I would like to share my pieces with fellow tea lovers from around the world.
Shigaraki Ware
Preserving Ancient Tradition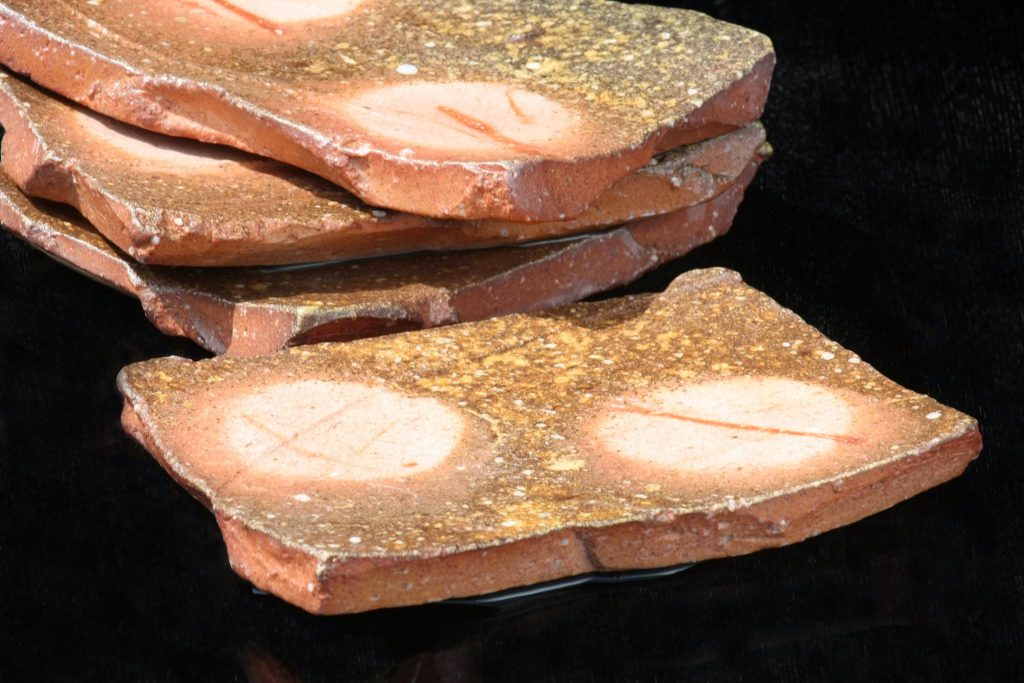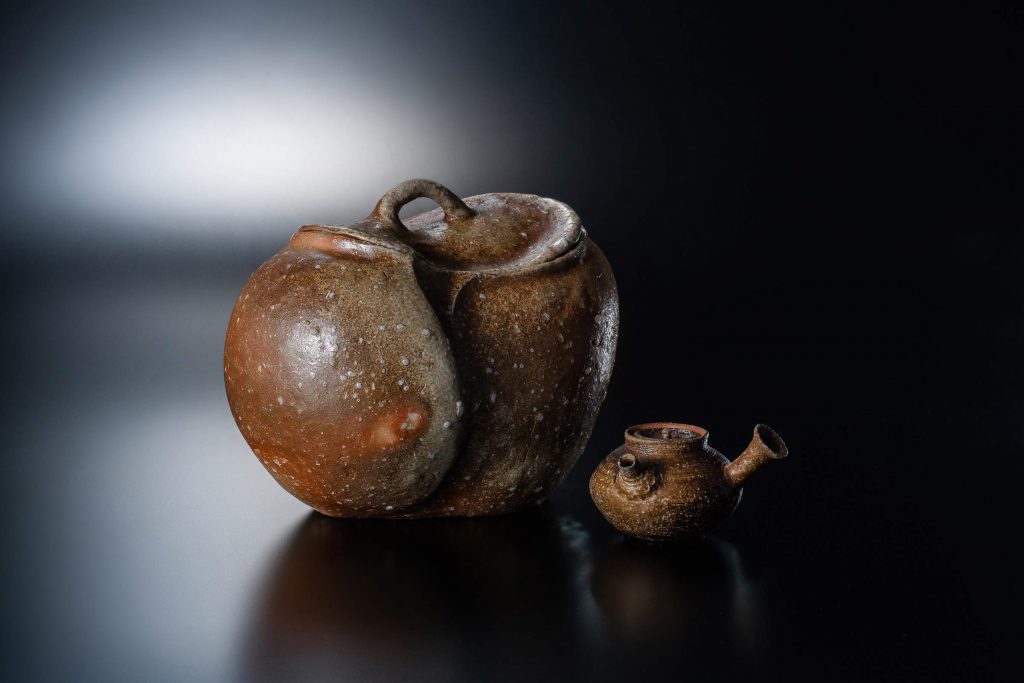 Located in the western part of Shiga Prefecture near the Kyoto border, the town of Shigaraki thrived as an important hub and even briefly served as a capital about 1300 years ago. The pottery made here, called Shigaraki ware, is included among Japan's "Six Ancient Kilns." The region offered an ideal soil layer derived from the 400 million-year-old ancient Biwa Lake, abundant firewood from the surrounding mountains, and great proximity to the imperial capital of Kyoto. Shigaraki ware emerged as a major industry of this area from the late 13th century, and is now one of the nation's primary pottery towns.
Traditional Shigaraki ware features textures and tones that are earthy and natural. This comes from the so-called high fired unglazed technique, in which works are fired without glazing in a high-temperature kiln. Shigaraki ware is also defined by its keshiki (lit. scenery or landscapes), the surface and color variations introduced through reactions between the clay and fire. Keshiki includes such styles as ash-glazed hai-kamuri and black burnt koge. Along with cracks and imperfections, these forms of keshiki have attracted praise and admiration from renowned tea masters and art scholars.
Shigaraki ware is also known for being flexible and versatile thanks to the natural properties of the local clay, such as elasticity and fire resistance. The skilled techniques of Shigaraki craftsmen allow the production of works in various styles, shapes, and sizes, adapting to the ever-changing needs of consumers, from small delicate pieces such as tea utensils and plateware, to larger pieces such as pots, bathtubs, and even construction material for building exteriors. This flexible spirit has deep roots with the artisans of Shigaraki, who are still innovating with the form even today.
Biography
Born in Shigaraki Town, Shiga Prefecture
Graduated from Toyo University, Department of Sociology
Graduated from Kyoto Prefectural Technical College of Ceramics
Honored as Dento Kogeishi (Traditional Craftsman) of Shigaraki
Exhibitions
Nissin Foods Contemporary Ceramic Art "Menbachi" Grand Prize Exhibition
Solo exhibition (Gallery Beni, Kyoto)
Solo exhibition (Gallery Toen, Shigaraki)
Ceramic exhibition by ceramic artists in Kansai Region (Toko, Mashiko Town, Tochigi)
Four Men Exhibition (Kobe Hankyu Department)
Solo exhibition (Kohara, Shigaraki)
"Umi-wo-koete" ceramic art panel and photography exhibition (Anyang, Korea / Tokyo / Kyoto / Otsu)
Solo exhibition (Gallery Riun, Nishinomiya / Toko, Mashiko)
The 6th Mashiko Ceramic Art Exhibition (Mashiko Museum of Ceramic Art)
Won The 17th Shumei Bunka Kikin Award Gold Prize
Korea-Japan Exchange Exhibition in collaboration of Gangnam University, Korea and Shigaraki Ceramic Cultural Park (Korea / Kyoto)
"Genzaikei-no-Togei" Hagi Grand Prize Exhibition (Hagi Uragami Museum, Yamaguchi)
Won The 1st "Imadoki, Shigaraki, Kayariki" Grand Prize
Exhibition for kayari ceramic incense holder (Hodge Podge, Kyoto)
Solo exhibition (Asahido, Kyoto)
"Shigaraki-no-ima" Exhibition (Shigaraki Traditional Industries Museum)
Solo exhibition (Kukuriho, Kanazawa)
Shigaraki Ware II Exhibition by Satoki Onishi & Chokushi Craftsmen (Shigaraki Ceramic Cultural Park)
"Aremo-koremo" Exhibition (Shigaraki Ceramic Cultural Park)
Solo exhibition (Gallery Yu, Shizuoka)
Solo Exhibition (Shinjuku Keio Department Store, Tokyo)
Nihon Sencha Kogei Exhibition(Manpukuji Temple, Kyoto)
Japanese Traditional Crafts Kinki Exhibition (Gallery Ryu, Kyoto)
The 11th Contemporary Japanese Tea Pottery Exhibition (Ceratopia Toki, Gifu)
"Ma-ni-tsudou" Exhibition (nitehi works, Yokohama)
"Shigaraki-no-fu" twelve artists exhibition(Kakiden Gallery, Tokyo)
Lectures
Lecture Series at Omi Multicultural Institute, Seian University of Art and Design